J. RONCO Y CIA has been over a century contributing to the international trading of the region as Ships Agents and Stevedores, Forwarders and Customs Agents, Warehousing and Distribution.


J. RONCO Y CIA with over one hundred years of existence in this field, has expanded mainly in South-eastern Spain, at the ports of Almeria, Carboneras, Garrucha, Motril and recently Algeciras. They act as agents and stevedores to renowned Owners, Shippers and Receivers that use the aforementioned ports. This confidence shown in J. RONCO Y CIA by their Principals enables them to attend an average of 1.400 vessels per year. J.RONCO Y CIA management systems are fully certified by Lloyd´s Register to the quality standard ISO 9001 – 2.008 and to the standard ISO 14001 (they are also in the process of obtaining certification ISO 18000). J. RONCO Y CIA are members of BIMCO as well as taking an active part within the Spanish association of Stevedores and Ship´s Agents. They are also in a position to offer the services of Ship´s Agents and Stevedores and Customs Agents, Forwarding, inland transport and warehousing. J. RONCO Y CIA have expert personnel and port facilities, which allow them to offer a comprehensive and efficient service to cover all possible requirements of vessels and their Owners and cargoes.

Under the name "HIJO DE ALFREDO RODRIGUEZ LTDA.", J. RONCO Y CIA acts as Forwarders offering customers the following services:
CUSTOMS FORMALITIES.
Customs agents to process all customs documentation for the exportation or importation of any goods. Besides, J. RONCO Y CIA offers all complementary services such as sanitary and veterinary inspection, and customs consultancy.
Custom clearance – import/export
Transit
EUR1/ATR Certificate
Phytosanitary certificate/Sanitary inspection
Custom depot
Goods inspection – Certificate of conformity
Certificate of Origin
Consultancy with sanitary and veterinary services
Customs Consultancy
SEAFREIGHT.
J. RONCO Y CIA delivers the best services for all maritime shipments. Whether for a FCL or LCL shipment, J. RONCO Y CIA will find the most economical and the quickest solution. From any port in the world, to any port in the world, from your customers warehouse to your client's warehouse, looking for the most suitable solution to cover your needs.
Transport in container
J. RONCO Y CIA will take care of your container transport with shipping lines available in Spanish ports. Moreover, since the arrival of the shipping line ZIM in 2009, and the brand new service operated by CMA-CGM, J. RONCO Y CIAs offer shippers from Almeria and from its Hinterland the possibility to import or export, via their own port, all their goods that may use the container for transport.
Maritime transport to Ghazaouet (Algeria)
J. RONCO Y CIA procures the fastest and most reliable service to Algeria. On the line Almeria-Ghazaouet they dispose of 20 and 40' containers (DV and Open Top) and with the possibility of groupage (LCL) as well. Fresh products transport is available through a service on refrigerated trucks. J. RONCO Y CIA are specialists in the transport of fresh fruits and vegetables to Algeria. Besides, they can manage the transport of any loose goods on flat bed trailers (6 to 13,5m long).
Daily crossing to Morocco and Melilla.
All transports available to Nador and Melilla ports.
J. RONCO Y CIA processes all your customs declarations for these destinations.
PROJECTS.
Complete projects management.
J. RONCO Y CIA organizes all maritime, terrestrial and air shipments for industrial projects. J. RONCO Y CIA has actively participated in projects like: MEDGAZ pipeline (Algeria to Almeria) – complete logistic and customs solution for Medgaz and all subcontractors (SAIPEM, WHEATHERFORD PIPELINE SPECIALISTS, JAN DE NUL, etc.)
ELECNOR Water transport network in Algeria – complete logistic solution from Spain to Ghazaouet port.
TRAMWAY OF ORAN, ALGERIA – Project handled by the Spanish company Isolux-Corsan
VEHICLES AND HANDLING EQUIPMENT
J. RONCO Y CIA has put together a wide choice of vehicles to cover all transport needs to Algeria, Morocco and Melilla. If your goods need to be manipulated (with care) in port before boarding, J. RONCO Y CIA will use the most adequate handling equipment to make the job safely and correctly.
For all other destinations/operations, they will look for the most suitable equipment, in container or in bulk from/to any place in the world.
Vehicles available in Almeria port
- 20 and 40' containers, Dry Van or Open Top
- Flat-bed/Dropside trailer: 6 a 13,5 meter long
- Side curtained trailer
- Refridgerated trucks
Handling equipment
- Forklift: 1,5t to 42t
- Cranes
- Backhoe loaders/Excavators
- Reach Stacker
WAREHOUSING AND DISTRIBUTION
J. RONCO Y CIA presently has some 15.000 m² of warehousing, of which some 7.200 m² is located within the port area, some 1.500 m² at the Sector 20 Industrial Estate in Almeria, and some 8.000 m² at the town of Vicar, which is at the centre of Almeria's extensive market garden production. J. RONCO Y CIA warehouse in the Port of Almeria is fitted with a certified bonded store. Stuffing and de-stuffing of containers activities are carried out at our Port warehouse.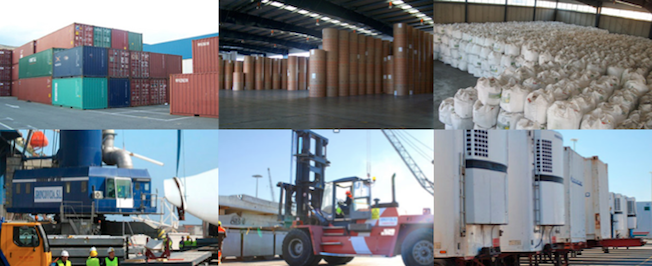 ROAD TRANSPORT
J. RONCO Y CIA company offers road transport services nationwide and also to and from the rest of Europe, Morocco and Algeria. They are also in a position to offer road container transport owning a fleet of container platforms. J. RONCO Y CIA has also a close relationship with various transport companies that collaborate to carry out all transports needs.
J.RONCO Y CIA., SL.