OTIM is the ideal partner for any need in the field of international freight forwarding. Established in 1948, OTIM has reached during over 60 years activity a dominant position in the market, adjusting itself to meet the increasingly complex needs of its clients.
The Organisation (Qualitly Management System: ISO 9001 Certified) consists of a wide variety of services thanks to highly specialized and skilled departments enjoying the essential freedom to ensure quick operational decisions and accurate, personalized service.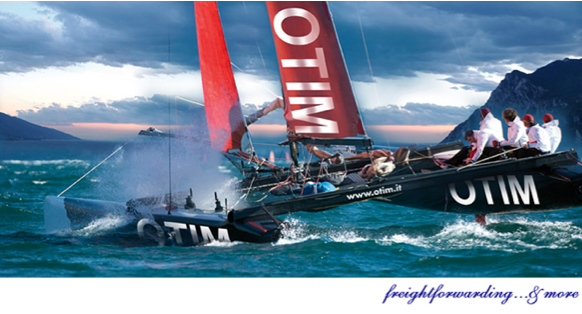 | | |
| --- | --- |
| * Worldwide consolidations service | * Tariff consultancy |
| * Direct airlines service | * DGR Cargo |
| * Special airfreight "door to door" service | * Moving of personal effects |
| * Import airfreight service | * Packing Palletising goods |
| * Export airfreight service | * Storage |
| * Worldwide FCL/FCL service | * GOH Garment on hanger (Air & Sea) |
| * Worldwide LCL/LCL service | * Warehousing and distribution |
| * "Door to door" service available | * Documentation service |
| * Air & Sea customs clearance | * Pick-up service |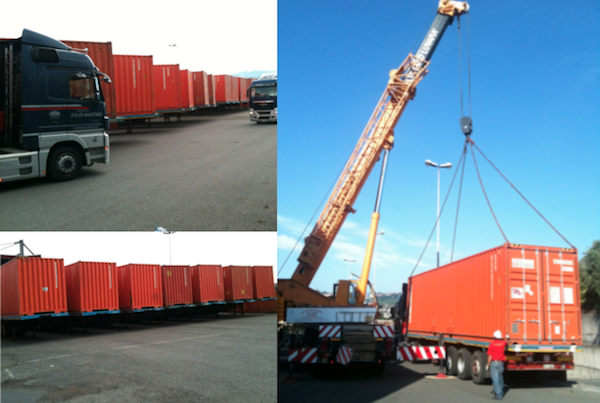 Ocean Freight:
OTIM SpA offers a wide range of ocean freight transportation services.
Worldwide LCL/LCL consolidation services.
Full containers, in sizes 20', 40' lengths, as well as Open Top and Flat Rack equipment is offered.
OTIM SpA select the most suitable carrier for you, or, where no direct sailings are available, find possibilities to tranship under one Through Bill of Lading. For out-of-gauge cargo, such as overweight of oversize equipment, OTIM SpA will find the most suitable carriers and the most direct route for handling these cargoes with greatest care at competitive prices.
Ro-ro cargo:
For wheeled cargo transportation (trucks, trailers, mafies, etc.), from/to all main Italian and overseas ports, OTIM SpA provide assistance, coordination, and arranging by the best and most reliable specialized carriers.
Project Cargo:
Over 60 years experience with the main italian and international industries in the fields of oil, gas, iron and steel, machine tool, etc.
Air freight: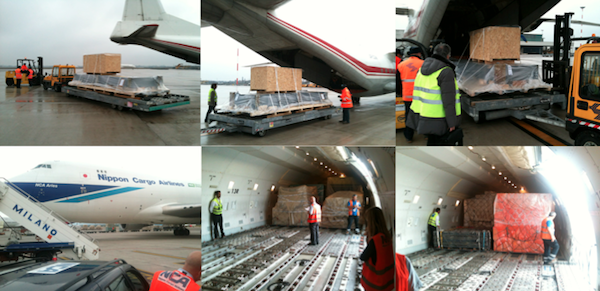 Worldwide consolidation services.
Whether large or small, OTIM SpA get shipments underway. In particular, call OTIM SpA with your airfreight shipments which require the extra attention, and time definite delivery such as shipments from one other country to another or shipment involving difficult documentation.
OTIM SpA staff experience in dangerous goods transportation and in AOG shipments is at client's fully disposal, in order to solve any documents problem which could arise.
Local Pick Up, Warehousing & Logistics:
Comprising the pick-up of goods from the factory or warehouse of the exporter and its transfer to our warehouse close to the airport and/or directly to the airport or port. This may also include the co-ordination of the shipment in the exporter's own premises.
With substantial warehousing facilities in strategic locations we can handle your warehousing and logistics needs to the best, including: Zones for consolidation and deconsolidation of freight (air & sea) and special areas equipped for Garments on Hangers and fashion distribution.
Door to Door Service:
OTIM SpA clients may benefit from the convenience of "one stop shipping" which includes Customs Clearance and delivery. Freight is picked up at shipper's door and delivered to customer's door as instructed.

Exhibition and Trade Shows Service:
Since many years OTIM SpA has been focusing on the Exhibition freight forwarding worldwide. The critical aspects of this sector require specific highly professional attitude. The accurate preparation of documents, timely planning of the shipment, and international network of own offices and fully reliable partners, the assistance of own staff on site, the availability around the clock, 365 days per year will assure the timely delivery to Stand and allow the Exhibitor to obtain the best result from his attendance to the event.
​​​​​​​GOH – Garment on Hanger (Air & Sea):
OTIM SpA offer a range of special services for different client needs. For example, garment shippers appreciate our "Garment on Hanger" service, which eliminates the need to re-iron garments upon arrival.
Customs clearance:
OTIM SpA offers customs clearance services throughout Italy. A very important factor in this regard is prior determination of correct customs classification and verification of documents prior to clearance.
Insurance:
OTIM SpA insure your goods with an international insurance provider door to door.
Customer service:
OTIM SpA recognize that each Customer is different and has a unique set of requirements.
Whether it's import or export, air or ocean, our highly trained professionals bring their knowledge, experience and skills to bear in a single minded focus of satisfying our Customer's specific needs.
Travel and Tourism:
In the field of travel and tourism, OTIM SpA focuses on organizing conventions and incentive, paying the greates attention to every technical and logistical detail.
Pls. visit www.otim.it for more information.